Welcome to our little Shakespeare shoppe.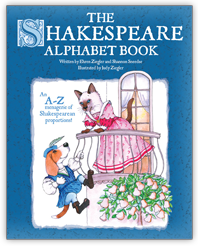 An A-Z menagerie of Shakespearean proportions!
The Shakespeare Alphabet Book seeks to entertain, educate, and put a little silly into everything from Ariel to 'Zounds! Each letter of the alphabet is paired with some of Shakespeare's greatest characters, portrayed as animals dressed in Elizabethan fashion, and strung together with a simple rhyming narrative: "A is for Ariel, longing to be released." "B is for Bottom, turned into a beast." A gentle introduction for the beginner, a fond amusement for the connoisseur, and good fun for all. Order now
Also available on amazon.com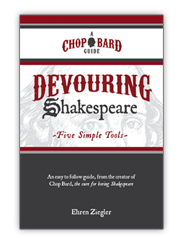 Our first Chop Bard guidebook!
Enjoying Shakespeare is easy—understanding him is what's complicated. To remedy this, Ehren Ziegler has outlined five concepts that can be applied to any of the bard's plays, making Shakespeare more accessible and less intimidating.
Order the guide through our online store, and use code: 6BM4MMT8 to get 15% off! Order now
Also available on amazon.com